...About Us...
About us

Stavanger-Web (SW) is a privately owned and driven website. The main goal of the site is to provide up to date information in English, about the city.
SW has been on the Internet since 1997. Before 2000 it was known as "Siddis - your port to Stavanger, Norway" The site has evolved into one of the most informative sites concerning Stavanger, Norway. Our location in Stavanger gives us the possibility to keep you up-to-date.
You will find links to over 1000 web pages concerning Stavanger. These are mainly links to cultural sites (sports, music etc) and tourist information sites. Stavanger-Web is not a portal for businesses situated in Stavanger, but due to the importance of the oil industry, we do have a page with oil links.
Stavanger-Web in numbers
In January 2005, Stavanger-Web passed the 1,00,000 visitor mark. At the same time we've had over 3 million page views. We have been counting since July, 2000 which is when we changed the name of the site from "Siddis" to "Stavanger-Web". Stavanger-Web has over 500 unique visitors per day. And the trend is rising! In November and December we usually attract between 1000 and 1500 unique visitors per day.
Stavanger-Web has a high ranking in the most frequently used search engines. In Google we are #1 for the keyword "Stavanger". The search engine Google is also our #1 referrer. From the keywords used to find Stavanger-web there is no doubt that a large portion of our visitors are tourists. More than 200 other sites have linked to Stavanger-Web!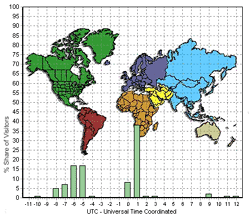 Who uses Stavanger-Web?
40 % of our readers come from USA and Canada. Europe is also high with about 40 %. Within Europe most of our readers come from The Netherlands, Germany, U.K. and Scandinavia.
And what browsers do they use?
Well suprislingly, Internet Explorer is only used by 69% of our readers. Other popular browsers are on the rise; FireFox (23%), Safari (5%) and the Norwegian made Opera (2%).
Happy Reading,
Eric Mathiesen
Webmaster
Read what others have said about Stavanger-Web:
"A very complete list of informative and cultural links to web sites concerning the area around Stavanger and surrounding area." - Norskland
"An emigrant from Haugesund has possibly made Stavanger's best website" - Radio102
"Stavanger-web has links to everything that can be found on the Internet about Stavanger." - Norwegian State Radio (NRK)
This website provides A-to-Z information about Stavanger, Norway. Everything from daily news, sports, holidays, to weather reports and maps can be found here." - The Eli Broad College of Business Study
"A ton of information about Stavanger, in English" - Sons of Norway
"Comprehensive site all about Stavanger including local happenings, area information and weather." - Australians Abroad
"An extensive and informative site for any newcomer to Stavanger. It includes much practical information such as currency, schools and shopping as well as general information, attractions, history and a great deal more." - Outpost Expatriate Network
"I think your website is the best I've ever seen. It is so comprehensive, and has so many offerings that I just kept looking at everything. We will be visiting in May, and your site has been helpful for us to decide to spend some extra time." - Bill Nelson, tourist
"Recommended" - Stavangeravisen 12.6.2005