...FAQs...
Frequently Asked Questions?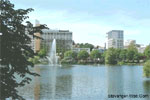 Stavanger-Web has since 1997, provided surfers from all over the world with information about Stavanger, Norway. Some of the most frequent questions and answers are listed here. If you would like to ask a question, you can either e-mail us or post a question in our discussion forum.
We will be traveling to Stavanger for our summer vacation. What kind of weather should we expect?
Stavanger is located on the west coast of Norway. Summer weather tends to be either mild and wet or beautiful, warm sunshine. For more information about the weather and climate in Stavanger, please visit our Weather & Climate page.
How many people live in Stavanger?
Stavanger has a population of about 110.000. If you include the area of Sandnes, Sola and Randaberg, there is close to 200.000 in the area
Are we allowed to bring our dog with us to Stavanger?
This depends on where you are coming from and how long you are going to stay. The necessary information can be found at the Norwegian Animal Health Authorities Webpage.
What is the crime rate in Stavanger?
The crime rate in Stavanger is on average about the same as the rest of Norway which has a low crime rate compared to many other countries.
What is the designation of the airport in Stavanger?
The airport in Stavanger is called "Stavanger lufthavn, Sola flyplass" and is designated SVG".
We are french and we'll go to Norway between in July. We want to know how to take the boat between Stavanger to Bergen in camping-car and what is the price. Thanks to answer me quickly.
There is no direct ferry between Stavanger and Bergen. The shortest route is to drive E39 and take two ferries (short crossings). You can find more information about the route on Shell's Travel Planner or ViaMicehelin.