Home
Tourist & Expat Info
News & Weather
Sports & Culture
Stavanger Facts:
Inhabitants: 129,191
Area: 70 km2
On Facebook you will find great photos, news and anecdotes from Stavanger. Don't forget to "Like" us :-)

Stavanger-Web's Christmas page is the number 1 result on Google for "Christmas in Norway". Read about Christmas in Norway here.

Order the DVD "Around Stavanger" by Jan Kurtis Skugstad. This DVD takes you on a journey of the bustling city on the southwestern coast of Norway showing the beauty and charm of this 800 plus year old town.
Welcome
Welcome to the Stavanger-Web. We've been on the web since 1997 providing you with information in English about Stavanger, Norway.

The 12 story, concrete high-rises at Ullandhaug, Stavanger were completed in 1974. This photo is from 2007 before the latest refurbishments were performed. The high-rises are located right next to the Iron Age Farm and Madlavoll School.
An American from Tuscon, Arizona living in Stavanger, Norway, Whitney Love has her own blog where she shares her knowledge and passion for Norwegian food. She also gives tips to expats looking for special ingredients in addition to comments about life in Stavanger. It is well worth a look!
Inside Stavanger-Web
We have published a lot of information concerning Stavanger. Tourist and cultural information together with featured articles and photos - both old and new. To help you find what you are looking for see our list of shortcuts below: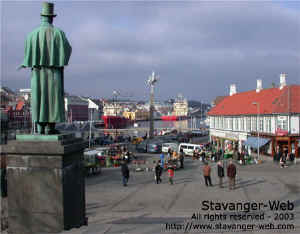 Havly Hotel

Best Western Havly hotel is a modern, centrally located hotel with 42 rooms. We are located nearby to the city's wide selection of restaurants, the airport bus and the train station.

You will find a good offer at www.havly-hotell.no
Read more about one of Norway's best beer pubs here